BEAUTY TRENDS HAPPENING NOW
1.METALLIC LIPSTICKS
Metallic lipstick finishes are all the rage right now. We're used to seeing matte and creme lipsticks.Now it's all about the opaque metallic lip products.From normal lipsticks to liquid lipsticks. And people are getting really creative with the metallic lipsticks too.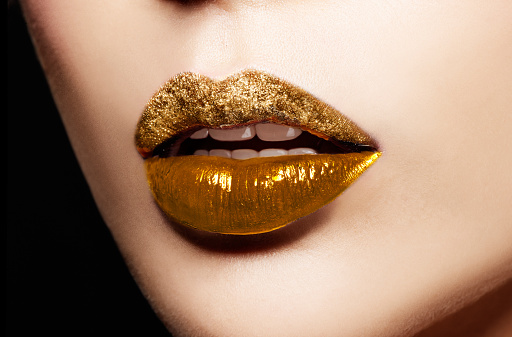 Below are some metallic lipsticks to try right now.
2.CUT CREASE
You may have seen the term 'cut crease 'on your journey around YouTube and Instagram.A cut  crease is basically an eye shadow technique that you use to define your eye socket. You draw a continuous line on the crease of your eyelid, use a light shadow on the eye lid and use a darker one on top of the line. It's not as easy as it sounds. Many a person have tried and failed. It takes practice and patience.It's like getting a black belt in makeup. 😀
Here is a photo tutorial on how to do a cut crease:
3.GLITTER UNDER THE BROW
Apparently these are now a thing.Using glitter under the brows. We've seen these videos floating around on social media.I don't know if people are walking around like this in their day to day lives. But it's a cool editorial or runway look.
4.SILISPONGE
There's this thing I talked about in my last post here. It's a sponge that's not a sponge.It's called a 'silisponge' which all the big beauty gurus on YouTube have reviewed. It's quite popular right now. Read more about it here
READ ALSO: THIS BEAUTY TOOL IS CAUSING A FRENZY
5.MINK LASHES
False lashes are made of different materials. There are those that are made of plastic, those made of human hair and those made from mink fur.These are some of the most natural-looking and most flattering lashes there are.These days you will see your favorite YouTuber wearing mink lashes in their video.Would you wear mink lashes? These ones here are an example of mink lashes.
6.BAKING
'Baking' in this context is not the baking that you do in the kitchen. It's a technique that was used from a long time ago by drag queens and stage performers to keep makeup on for a long time. You basically use setting powder under your eyes and all the oily parts of your face like your nose and your forehead and let it sit for at least ten minutes.You then brush off the excess powder.This will keep your foundation and concealer in place for quite a while. But it doesn't sit well if you have fine lines on your skin.It may settle in those lines. If you want to see a further tutorial, watch this video here.
7.HIGHLIGHTING AND CONTOURING
Highlighting your face means using products lighter than your skin tone to make some areas of your face appear more prominent. Contouring is using darker shades to make certain areas of your face recede to give the face a bit of dimension. Contouring and highlighting has been around for quite a while. It's just Kim Kardashian who made it popular among the masses. Companies have come out with a whole range of products to highlight and contour. Here are some of my favourite:
(i) NYX WONDERSTICK,HIGHLIGHT AND CONTOUR here        (ii) SLEEK FACE CONTOUR KIT here
(iii)BLACKUP CONTOURING POWDER here     (iv) TOO FACED COCOA CONTOUR here
Here is how to highlight and contour
TO STAND A CHANCE TO WIN A FREE ONLINE MAKEUP CONSULTATION WITH ME,SUBSCRIBE TO MY MAILING LIST.
*

indicates required