LIQUID LIPSTICKS SOLD IN KENYA
Don't get me wrong. I love my normal lipsticks but I have a new  found love for liquid lipsticks.It's not hard to see why myself and tons of other women have been sucked into this liquid lipstick craze. Liquid lipsticks go on as liquid and dry down to a matte finish.Most liquid lipsticks are long-wearing as opposed to the normal lipstick . Brand after brand is coming out with its own version of the very popular liquid lipstick. This post is in  no way a review of the products mentioned. It is only for information purposes. Some of these products I wouldn't really recommend. Just letting you know they exist here in Kenya! So  let's begin:
1.L'OREAL INFALLIBLE LIP PAINT
These are the new age liquid lipsticks. Why I love these liquid lipsticks is that they are lightweight and do not dry out your lips.They look gorgeous when worn and the best part is that they are sold right here in Kenya. Buy yours at KSh.1600 here.
2.MAYBELLINE VIVID MATTE LIQUID LIPSTICK
I can't praise these liquid lipsticks enough. Like the L'oreal lip paints above, they are lightweight and are not drying at all. The thing I love about these is also the wide range of colours. From nudes to electric pinks and dark, vampy colours. They apply as a gloss and dry down to a comfortable, classic matte. Buy them for KSh.1400 here.
3.NOUBA MILLEBACI
This was my first liquid lipstick.The Nouba Millebaci no.7. But it was certainly not my last.These are sold at Nakshi Nouba at the Ukay Centre in Westlands and retail at KSh.2000.
3.L.A GIRL MATTE LIP GLOSS
These are good for affordability. They're sold for KSh.650 on makeupaddiction.co.ke.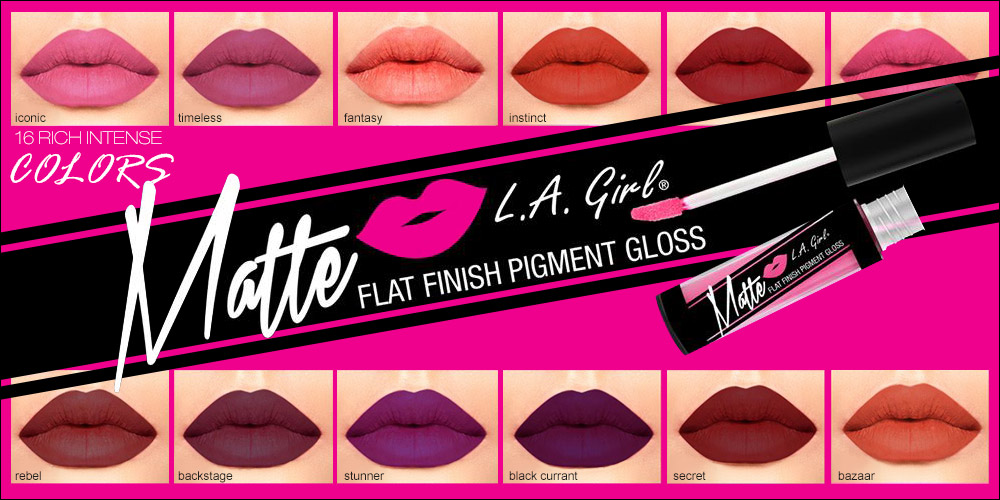 4.NYX SOFT MATTE LIP CREME
This liquid lipstick is not as heavy as most liquid lipsticks.That's a good thing. The candy smell is also a bonus! Check the Instagram page called @muaddicts254 . They sell these at KSh.1000 each.
5.COLOUR POP ULTRA MATTE LIP
This lipstick has been raved about the world over by beauty gurus. What I love about ColourPop is the variety of finishes and colours. They just recently launched a liquid lipstick with a metallic finish and interesting colours.  It can be bought for about KSh.1600 on most Instagram shops.
6.KLEANCOLOR MADLY MATTE LIP GLOSS
This brand is also great for affordability.At only KSh.500 you can get yours on makeupaddiction.co.ke.
7.SLEEK 'MATTE ME'
Before all other liquid lipsticks mentioned in this post there was Sleek.Sleek had the 'Matte me' from ages ago. It's generally a decent product with good lasting power.The shade 'Fandango Purple' is to die for. You can buy these from leading supermarkets like Nakumatt and some Tusky's. They're also available at Beauty stores like Beauty Wholesale, Our Price, Super Cosmetics and Beauty Options. They go for about KSh.900.
8.DOSE OF COLOURS
This is an amazing brand of liquid lipsticks. I saw someone selling these on an Instagram for about KSh.3500. I can't seem to recall who! If you can locate this page kindly let us know in the comments below.
9.MILANI AMORE MATTE LIP CREME
These you will love.Best part is how affordable they are for such a good product.You can find these at major beauty stores like Beauty Wholesale, Our Price, Super Cosmetics and Beauty Options.
READ ALSO : MATTE FOUNDATIONS IN NAIROBI
10.MAC 'RETRO MATTE LIQUID LIP COLOUR'
MAC recently came out with its own liquid lipstick.This lipstick however has received mixed reviews from different people. You can get your at the MAC store in Garden City Mall and The Village Market.
11. JORDANA SWEET CREAM MATTE LIP
Another affordable option is the Jordana Sweet Cream Matte Lip. Shop this one for KSh.750 online.
OTHER RELEVANT ARTICLES THAT MAY INTEREST YOU:
TOP 5 LIPSTICKS UNDER KSH.1000 IN NAIROBI
  HOW TO MAKE ANY LIPSTICK MATTE
LIP COLOURS TO TRY THIS HOLIDAY SEASON