QUALITY MAKEUP BRUSHES IN NAIROBI
I was going through my kit and I realized just one or two of my brushes I bought locally. I choose to buy them abroad because we have a limited selection of good quality brushes in Kenya. I hate some of the brushes I see around. Most are cheaply made with plastic bristles that feel like a facial scrub on your face. They also shed a lot and come apart quite quickly. The big brands of brushes haven't come to us yet. And if they have, they're a bit pricey. So here are the brands that I found that are sold in Nairobi. In no particular order. Both affordable and more expensive:
1.ELF
I also love these brushes for affordability. From what I have experienced, they haven't shed a single bristle while in use or while being washed. A cult favourite is the Elf powder brush. I use mine to apply foundation. I also own the C shadow brush. Get the brushes from their 'studio' line(the black ones) as opposed to their line with white handles. The Studio line is better quality.Get your ELF brushes here.
2. MAC
As you know, we have two MAC stores in Kenya. Goodie. But the price of these brushes will have you doing a double take. They told me brushes start at KSh.3500 (About $34 dollars) and that's a small angled eyeliner brush . I can imagine how much the bigger brushes are. But these will last and last. I've read of a make up artist who has stayed with her MAC brush for 10 years. I can also attest to the quality of MAC brushes. My 187 is going strong. Great brushes to start with the 239 eyeshadow brush and 217. A thing to note is that MAC brushes never come in sets. If you see a set of MAC brushes…Fake. MAC brushes come individually, unless they're part of a limited edition collection.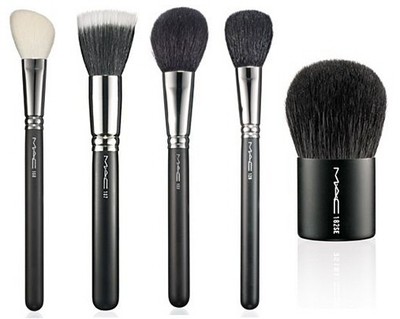 3. SIGMA
I visited Lintons Beauty World in Nairobi and they told me they stock Sigma brushes. Sigma brushes have brushes similar to MAC but they are cheaper and good quality! You'll love the F80 Kabuki brush. It is raved about in the beauty community.They come is sets or you can buy them individually according to what you need. 
4.  REAL TECHNIQUES
These brushes are a darling in the makeup world. Beloved by countless makeup artists in the world, these are a staple in anyone's kit. I live for the softness and quality of these brushes. They blend product so well with their taklon bristles and are comfortable to hold. The 'Core collection' set is a must have. The best part is how affordable they are. You won't find these in shops but some people stock and sell them online like Phoina Tosha on her Instagram page phoinabeauty.
5. SUZIE BEAUTY
These are probably the most readily available brand of brushes for the busy everyday woman. They are available at Suzie Beauty Counters in nearly every mall and beauty shop you go to. Whether it's Beauty Wholesale, Super Cosmetics, The Junction, Garden City Mall…They're everywhere. They're also online on suziebeauty.com . I can vouch for these brushes. I have the eye shadow brush and lip brush. So far so good. They have withstood being washed countless times and pick up product well.
6. Eco Tools
I love love loove these brushes. I own a couple of them and I'm planning to buy all their brushes. These are a dream. Softest things ever. I kid you not. They have such a luxurious feel and kick most of my more expensive brushes in the behind in terms of softness. I have not seen a single bristle leave one of these brushes. Never. Also, they're environmental-friendly since they are made from recycled bamboo.You can shop them here.
If you buy a set of 5 brushes for KSh.200 (about $1) , remember that you get what you pay for. Good brushes are not cheap. You don't have to buy brushes that come in a set. Buying them individually is advantageous because you get to know what you need and buy as you go. Also, you may never use all the brushes that come in a set.
If unable to find them in Nairobi,here are some online links to the products mentioned.(International shipping offered) :